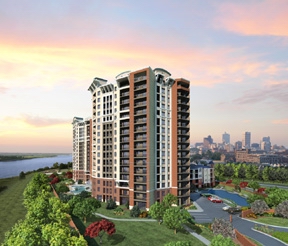 The Horizon Condominium, 717 Riverside, Memphis TN 38103 Memphis TN, 901-752-1783
Size: 1,2&3
Price Ranges: start $300,000
Features and Information:
The Horizon puts you steps away from the sound of Beale Street, the culture of The Orpheum and the action of FedExForum.The neighborhood also offers some of the city's best restaurants, art galleries and elegant boutiques in the South Main District of Downtown Memphis. Beautiful floor plans flow elegantly. Spacious kitchens make entertaining easy. Lavish baths are built to pamper and indulge. The Horizon offers amenities usually reserved for the finest luxury boutique hotels. Enjoy your own living lobby with cyber cafe, theatre, spa, wine cellar, and indoor pool.

CONDOMINIUM SELECTOR® offers a large selection ofcondominium and relocation services in the Memphis, TN area. Our experienced agents will find you the perfect condominium and email you the results along with available pictures, Floor plans and maps to the properties. Free Memphis Condominium Sales and Rental Locating and Finding Service for Memphis Condominium Memphis in Tennessee .

For those who like the warm sunshine, there is no better place than Memphis, Tennessee. The lifestyle is relaxed & comfortable, but offers amenities found only in the largest cities. Memphis, Tennessee seems to be the perfect city to have fun, raise a family, and find or start an exciting new career.

Buying an condominium in Memphis, Tennessee is quick and easy with our Free Memphis Condominium Locating Service. All you do is contact us at Condominium Selector by calling or completing our email request form. You will be contacted by a relocation specialist to go over your wants and needs. It's as easy as 1,2,3!

1. Complete the Search Request Form or call for
Memphis Condominium Memphis Tennessee .
2. We will contact you in a few hours to verify the information.
3. View the communities on-line and then visit your top choices.

Ready to Rent A Condo-Apartment
Click Here to get started
Services We Offer!

Memphis Condominiums, Sales, Rentals and Property Management
Apartment Rentals
Short and Long-term rentals
Available 7 Days a Week
Call 901-752-1783
Licensed TN R.E. Broker - Condominium Selector

Request your information now! Send us your information to get us started on finding your next condominium home!

We will prepare a unique selection of communities with pictures, Floor plans and important information. Our service is totally free to you the purchaser. Call or e-mail now to start your Memphis Condominium Memphis TN search.